Easter at home ... what to cook ?!
Easter is approaching and it's time to study the perfect menu! Tradition says that eggs, a symbol of rebirth, should not be missing at the table. Why not be inspired by this custom by reinterpreting it with a little imagination?
Our chef Antonio offers you a simple recipe in execution but original in the choice of raw materials! The key ingredient is in fact the blue egg of the Araucana hen, known for its beautiful colored shell, a symbol of the happy spirit. The coloring is completely natural, and the taste is exquisite!
VELVETED PEAS WITH AFFOGATO BLUE ARAUCANA EGG & TUNA EGG, WITH CARASAU BREAD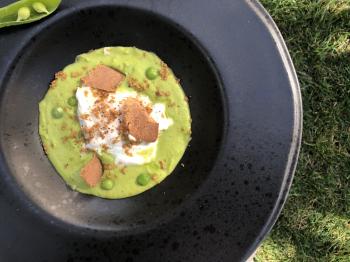 INGREDIENTS FOR 4 PEOPLE:
- 500 g fresh (or frozen) peas
- 100 g leek, cut into fine rings
- 4 blue eggs from Araucana hens
- 35 g of red tuna bottarga
- 50 ml white wine or apple vinegar
- 100 g extra virgin olive oil (EVO)
- 10 g fine salt
- 5 g sichuan pepper
- 150 g carasau bread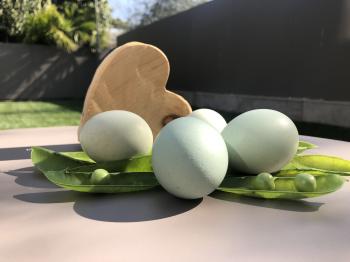 METHOD:
Put in a large and high pot 2.5 L of water and bring to a boil.
Add the salt, wait two minutes and pour the peas into the pot; cook them for 8-10 minutes, until they are very soft.
Drain the peas, keeping 250g of their cooking water aside.
—
In another pan, sauté the sliced ​​leeks over high heat with 10 g of extra virgin olive oil; add the fresh peas and sauté for two minutes.
Pour everything into the glass of an immersion blender, add 90 g of extra virgin olive oil and blend until creamy. Season with salt if necessary.
Filter the pea cream with a fine mesh strainer to obtain a creamy and smooth velvety.
—
Break the 4 blue eggs into four small bowls to keep them separate.
Put in a large and high pot 1.5 L of water and bring to a boil, lower the heat so that the water continues to boil slightly, and pour in the vinegar.
Create a small vortex in the water with a spoon or a whisk, pour the first blue egg; after three minutes, use a slotted spoon to carefully remove the egg from the water and place it on a sheet of absorbent paper or a cloth to let it dry.
Repeat the procedure for each egg.
—
Serve the pea soup in a deep dish, place a blue egg on top, grate the tuna bottarga. Sprinkle with sichuan pepper, with an intense and citrus fragrance, to give a refreshing touch to our dish.
Decorate with a drizzle of raw oil.
Break up the carasau bread and serve it as an accompaniment.